Changing the literary world one author at a time.
In Time: I Won't Back Down
Home

In Time: I Won't Back Down
It's been a while since I visited Viola and my In Time series which first appeared on My Write Side. You can find more by click the WIP tab above or searching for "In Time."
Viola stood with her feet shoulder width apart on the ground. Her arms extended forward from her body and the fingers of both hands curled around a pistol. Her tear smudged face was the only indicator of her fear as Father Lee stood before her, weaponless. She'd stripped him of his own pistol, which she'd now pointed at his heart.
"If you kill me, you will never save him," Father Lee pleaded.
"I'll drag you back from the pits of hell." Venom dripped from her tongue.
"Roderick will destroy you."
"Wicked words from a dying man. I won't back down."
~~~~~~~~~~~~~~~~~~~~~~~~~~~~~~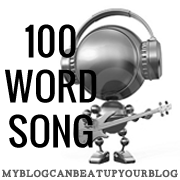 I'm linking this up with Lance and Leeroy for the 100 Word Song challenge. This week's song was one of my favorites, from Tom Petty: "I Won't Back Down." Since Viola is also in survival mode here, I'm linking this up with Velvet Verbosity, too, since it meets her 100 Word Challenge requirement. The prompt there this week was "Surviving".
I welcome and appreciate honest feedback. Please share your thoughts in a comment.
Thanks for stopping in!
Stephanie Ayers
A published author with a knack for twisted tales, Stephanie Ayers is the Executive Creative Director of OWS Ink, LLC, a community for writers and readers alike. She loves a good thriller, fairies, things that go bump in the night, and sappy stories. When she is not writing, she can be found in Creative Cloud designing book covers and promotional graphics for authors.