Changing the literary world one author at a time.
100 Word Song: Telling Stories
Home

100 Word Song: Telling Stories
He stood at the altar waiting. The smile on his face told the whole world how he felt. The best man stood beside him, a goofy smile to match on his own face. The music signaling her arrival started. The flower girls stepped out, dropping blood red rose petals on either side as they went. The ladies in waiting came down one by one. The moment of truth arrived. The doors opened. Her father stood there, alone. A gasp came from the crowd as he moved down the aisle. One whisper said it all. "She doesn't love you like that."
~~~~~~~~~~~~~~~~~~~~~~~~~~~~~~~~~~~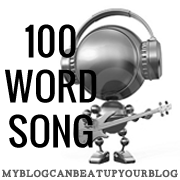 This week's 100 Word Song was chosen by K. It is Tracy Chapman's Telling Stories. This is my response.
I welcome all feedback, so please share your thoughts in a comment.
Thanks for stopping by and giving me a read!!
Stephanie Ayers
A published author with a knack for twisted tales, Stephanie Ayers is the Executive Creative Director of OWS Ink, LLC, a community for writers and readers alike. She loves a good thriller, fairies, things that go bump in the night, and sappy stories. When she is not writing, she can be found in Creative Cloud designing book covers and promotional graphics for authors.